Reviews by Petrik
Posted : 10 years, 5 months ago on 5 February 2008 04:49 (A review of
Pirates of the Caribbean: At World's End (Two-Disc Limited Edition)
)
Lack of action, lack of ideas, lack of everything but 15-minutes ship battle in the middle of whirl. But it is not enough...

0 comments,
Reply to this entry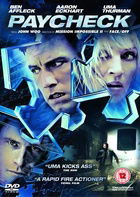 Posted : 10 years, 5 months ago on 5 February 2008 04:23 (A review of
Paycheck
)
Another great piece from John Woo's hands. Every minute is fascinating and I changed my mind about Ben Affleck after. Great idea.

0 comments,
Reply to this entry
Posted : 10 years, 5 months ago on 5 February 2008 04:16 (A review of
Mission: Impossible III (Widescreen Edition)
)
For everybody who like good action movie, this movie is really MUST

0 comments,
Reply to this entry